Metronome application for BlackBerry smartphones
NEW enhanced volume for BalckBerry Bold.
NB. If the sound volume is too quiet for your BlackBerry, choose a different sound or set Audio Boost.
New style Version 2 with quick change main screen controls, favourites and customized complex beat patterns.
Provides a convenient alternative to conventional metronomes, always available wherever you and your BlackBerry are.
Assists musicians in keeping a regular tempo while playing or rehearsing. Provides metronome beats at various tempo settings up to 840 beats per minute and alternative Visual beat display. An optional beginning of bar bell sound can be set for the appropriate number of beats in a bar.
Adjustable Audio Boost to maximise the sound from your BlackBerry
Metronome Features
Choice of many different beat sounds Some beat sounds are louder than others
INCLUDES Audio Boost setup option for noisy environments
Start/Stop
Audio or Visual Beat Display
Tempo Quick change using keys 1, 2 and 3
Volume control Quick change using keys 4 and 6
Beats per bar or complex Beat Patterns Quick change using keys 7,8 and 9
Tempo detection
Concert A tuning
Automatic regulation
Settings autosaved on exit
Quick Change keys for common settings
Custom Beat Patterns eg. Flamenco
Favourite Settings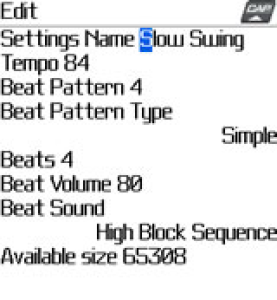 App Name:Metronome
App Version:2.1.7
App Size:136 KB
Cost:US$9.99 USD
Filed Under: Utilities Apps Tags: Beat Patterns Quick, Custom Beat Patterns, Quick Change, Tempo Quick Previous Post: Convert It – Touch Screen Edition
Next Post: ClockIt for Storm