System clock ON once screen locked or backlight off.
So you can have a look at clock/time easily at every return to live homescreen. You can catch your alarm info at the same time. Sweet! Insnt it?!
Changelog in v1.1.0:
1. Fixed little bug and became more perfect;
2. A totally clock screensaver in this version.
Guarantee satisfaction:
If you find a bug or have a feedback, kindly write email to us, we can provide revision ASAP. Be so kind that dont leave a malicious comment.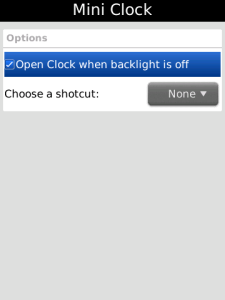 App Name:Mini Clock V1.1 – clock ON once locked or backlight off
App Version:1.1.0
App Size:45 KB
Cost:US$2.99 USD
Filed Under: Utilities Apps Tags: ASAP, Mini Clock V1, Sweet Insnt Previous Post: Best Countdown
Next Post: Insert contact