Install the NeoReader barcode scanner application and youre on your way to accessing the exclusive content you want everywhere you go.
Ready to buy that musthave pair of shoes you saw in an ad? Saw a billboard for that new action movie and want to learn more? Need product reviews for that new laptop you want to purchase? Want to enter to win the grand prize in that sweepstakes? If these ads and signs include a 2D barcode, like a QR code, you can!
NeoReader is a universal barcode and QR scanner application that transforms your mobile phone into a barcode scanner and allows you to access mobile content by scanning codes from print ads, publication, packaging, and more. NeoReader scans all the standard code types Data Matrix, QR code, Aztec, EAN, and UPC, so NeoReader is the only barcode reader youll need.
Its easy to use. Launch the NeoReader application, scan the barcode with your camera and zip…the content is delivered to your phone. No typing URLs into your browser, no painful search engines, no cumbersome menus to navigate. Get direct access to the important information you want.
Click. Connect. Discover. Today!
Depending on device type.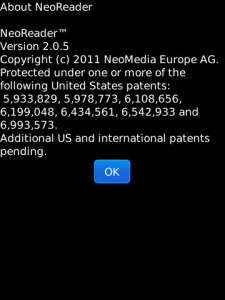 App Name:NeoReader QR code reader – barcode scanner
App Version:2.0.11
App Size:267 KB
Cost:FREE
Filed Under: Utilities Apps Tags: Data Matrix, EAN, QR, UPC Previous Post: Mithos
Next Post: AREA Mortgage Calculator