Now Featuring over 12,000 Diagnostic Trouble Codes!
The perfect addition to OBDII diagnostic tools that dont give you information on OBD2 diagnostic trouble codes.
This app provides manufacturerspecific extended OBDII and generic trouble codes, and is best used in conjunction with inexpensive OBDII meters that do not provide trouble code definitions. Now youll know exactly why your check engine light is on.
Supported manufacturers:
Acura, Audi, Alfa Romeo, BMW, Citroen, Daewoo, Chrysler/Dodge/Jeep, Fiat, Ford, GM/GMC/Chevy/Buick/Cadillac, Honda, Hyundai, Infiniti, Isuzu, Jaguar, Kia, Land Rover,
Lexus, Mazda, Mitsubishi, Nissan, Puegeot, Subaru, Toyota,
Volkswagen, Volvo
Includes Web search feature for more information on possible fixes for your trouble codes. Web search feature will use Internet access, and depending on your data plan, you may incur charges from your provider.
Disclaimer: All OBD information is provided as is without warranty of any kind, either expressed or implied.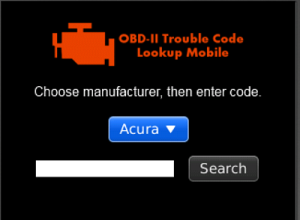 App Name:OBDII Trouble Code Lookup
App Version:4.0.0
App Size:609 KB
Cost:US$2.99 USD
Filed Under: Utilities Apps Tags: Alfa Romeo, Land Rover, OBDII, Volvo Includes Web Previous Post: Text911
Next Post: Pocket 10C SE Scientific Calculator for BlackBerry Bold 99XX