Passcode Lock Lite 2 in 1 slide to unlock + passcode
Protect your BlackBerry with style: slide and passcode. This is the perfect combination, just slide and type your password to unlock beautiful, simple and secure. Give your BlackBerry a different look!
Completely free for lifetime! Comes with a free 7 days trial of Passcode Lock Pro!
Features:
Option to drag down or slide right before unlock
Works directly with the native BlackBerry lock button
Automatically locks when your backlight goes off or after a configurable delay
Zero initial configuration
Starts automatically when your BlackBerry is powered on and runs silently in the background. However, you can easily turn it off at any time.
Locks out the device after configurable number of failed attempts. The lockout time is customizable too. Great against intruders
Forgotten password mechanism
Emergency call support
Own optimized keyboard for easier typing of your passcode on touchscreen devices
Configurable background. Use one of the backgrounds coming with the application or select a picture from your device memory / SD card.
Configurable sound effects
Customizable widgets: clock, notifications new emails, SMS, BBM etc., battery level and signal strength.
Option to disable auto locking on certain applications either native or thirdparty. Very convenient for browsers, maps, readers and others.
Works for nontouch screen devices as well
These features are available only during the trial of Passcode Lock Pro. After it expires they will be disabled.
Passcode Lock Lite is ad supported. It will start displaying ads once the trial of Passcode Lock Pro expires.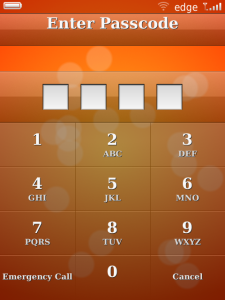 App Name:Passcode Lock Lite – 2 in 1 – slide to unlock and passcode
App Version:1.2.0
App Size:459 KB
Cost:FREE
Filed Under: Utilities Apps Tags: BBM, Passcode Lock Lite, Passcode Lock Pro, SMS Previous Post: Speedometer Ultra
Next Post: Track and Protect