Phone Locator for BlackBerry helps you find your lost BlackBerry smartphone, no matter if its at home, on the road, or anywhere else! It rings your BlackBerry even if its on silence or vibration mode. It locates your BlackBerry with different kinds of GPS mode. All these features can be done by just sending an SMS, its that easy!
Version 1.2 Update:
New feature added SIM Card Option. This feature is available for all BlackBerry Devices which are running under GSM/UMTS network. If your Device is running under CDMA network, this option wont show up in the app. To use this option, users are required to set a secondary phone number in the app. A SIM card change notification will be sent to the secondary phone number by SMS if SIM card has been changed on the device.
Features:
1. Ring your BlackBerry by sending the keyword via SMS:
User defined keyword to ring your BlackBerry, the keyword is case sensitive.
Alert can be set to repeat for 1 to 10 times.
Supports different kinds of audio files for ringtone, such as mp3, m4a, aac, mid, amr, wav, wma.
When keyword has been received, the customized alert screen will be displayed; your BlackBerry will play the ringtone with vibration and flash the screen.
2. Find your BlackBerry location by sending the keyword via SMS:
User defined keyword to enable your BlackBerry GPS to find location, the keyword is case sensitive.
There are 3 different GPS modes available: Cell Site, Assisted GPS and Autonomous GPS. Users can choose the appropriate mode based on their device, service provider and needs. A test screen is available for you to find out if your device supports the mode you chose.
Your BlackBerry location will be sent back to you by SMS within 10 minutes if the GPS found the location coordinates successfully, otherwise a warning message will be sent.
Note:
Phone Locator will be running automatically when you turn on your phone.
To locate your BlackBerry, it requires an onboard GPS chip and/or service provider support.
This app requires some specific application permissions in order to run properly. If the required permissions havent been set to allow, a permission screen will show up.
If you use a password to lock your screen, the alert message wont be shown until the device has been unlocked by user.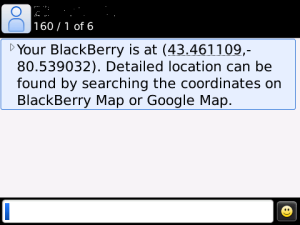 App Name:Phone Locator
App Version:1.3.1
App Size:85 KB
Cost:US$1.99 USD
Filed Under: Utilities Apps Tags: GPS, Note Phone Locator, Phone Locator, SMS Previous Post: ShowEventLog
Next Post: Hong Kong Junk Call Blocker