PhoneLocate Deluxe lets you find a lost BlackBerry quickly and easily whether its lost in a cab or lost in your couch. Simply borrow a friends phone and send your BlackBerry a simple command by text message, and it will instantly return the location of your lost phone or start sounding a blaring alarm. And our unique Smart Tracking capability can succesfully locate your lost phone even if you have been indoors for some time.
FEATURES
Location information GPS coordinates, a map and an address can be returned by text message or email or both! Our location tagging feature lets you set up tags for places you frequent home, school, work, etc. and your lost phone will return this information as well.
The ring command causes the phone to emit a blaring alarm and display a cusomtizable message i.e. Please call John to return this phone!. A oneclick callback button is shown as well.
When Dying Gasp is enabled, PhoneLocate will send you an email/text to let you know your phones last known location. If youve ever lost your phone with a nearly dead battery, youll know why we added this feature!
All PhoneLocate commands can be password protected, ensuring no unauthorized snooping of your whereabouts!
COMPATIBILITY
PhoneLocate is compatible with all GPSenabled BlackBerry devices running OS 5.0 and above. This includes
most new Bolds, Storms and Torches as well as many other models.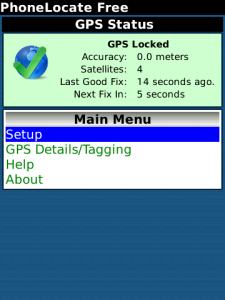 App Name:PhoneLocate Deluxe
App Version:2.0.60
App Size:210 KB
Cost:US$0.99 USD
Filed Under: Utilities Apps Tags: COMPATIBILITY, FEATURES, OS, Smart Tracking Previous Post: Flash Performance Tester
Next Post: xContact — Easy Contacts Manage