PWMinder is a Password Manager application that is used to store all of your passwords and other sensitive data in a secure encrypted file. With PWMinder, you dont need to try and remember all of your various passwords, but rather create one very secure password, to be able access all of your other passwords in one place.
In addition to passwords, for each record, PWMinder can store account numbers, web links, emails, security questions and more, and it allows records to be categorized. PWMinder also lets you search for passwords records by name, login or description. PWMinder also contains a Password Generator to help you create secure passwords.
The passwords are stored in a file format, which is compatible with the Desktop Computer version of PWMinder, so you have access to all of your passwords both at home and on the road.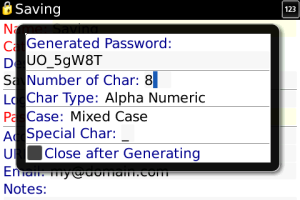 App Name:PWMinder
App Version:1.0.11
App Size:108 KB
Cost:US$2.99 USD
Filed Under: Utilities Apps Tags: Desktop Computer, Password Generator, Password Manager Previous Post: SafeTexting
Next Post: Calendar Me Jamaica 2012