RealCal is a simple, lightweight application that does just what you think, it dynamically updates your actual calendar icon with the current date.
No setup required, just install it, and it instantly replaces your existing calendar icon with our beautiful dynamically updating one.
Whether youre running OS5 or using an OS6 lookalike theme on your device, we use actual RIM graphics to bring your calendar icon to life in the most realistic way possible. Everything is completely authentic, it looks and works as if RIM themselves put it together.
The OS6 version of RealCal is the last missing piece between creating the perfect OS6 style theme on your device. You paid good money for your favorite OS6 theme, but your calendar icon doesnt update like it does with the real OS6. RealCal OS6 solves that problem. We use authentic OS6 graphics sourced directly from OS6 devices, you simply cannot find a more accurate OS6 calendar icon application. The size, the font, the icons themselves, its all perfect. Just what youre looking for.
The OS5 version is great for adding a bit of flair to your default Precision Zen theme by keeping the look and size consistent with the rest of your icons.
Easy to set up. Just install and it automatically turns your original calendar icon into an updating one. No additional setup is required.
Reliable and light weight. We keep the file size low and the memory usage to a minimum. Were talking true native application performance. RIM couldnt have done it better themselves if they tried.
Real OS5 and OS6 graphics. Everything is sourced directly from your device and looks completely authentic.
The last missing piece for your favorite OS6 theme. Get that blank or static calendar icon updating to bring your device to life!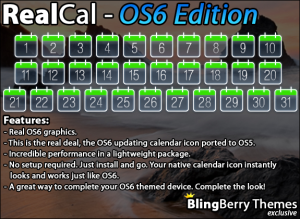 App Name:RealCal – the real updating calendar icon app
App Version:1.0.0
App Size:201 KB
Cost:US$0.99 USD
Filed Under: Utilities Apps Tags: Precision Zen, RIM Previous Post: powerOne Finance Calculator
Next Post: Voice Clock — Access voice clock from anywhere