Tether is an application that allows your PC to take advantage of your BlackBerry smartphones data plan, providing you access to the Internet on your laptop anywhere there is cellular coverage from your BlackBerry smartphone.
Tether is easy to install, easy to use, works practically anywhere, and is very costeffective.
We guarantee that if you hate being without internet or are frustrated over fees for internet service, then Tether is your solution. Eventually it will become an application that you cannot go without.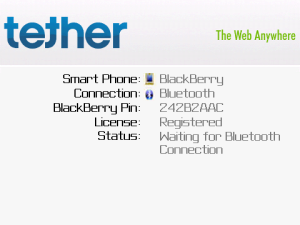 App Name:Tether Free Trial
App Version:1.4.5.1
App Size:96 KB
Cost:FREE
Filed Under: Utilities Apps Tags: PC Previous Post: ZonaSnap – Multipurpose Screen Capture
Next Post: AntiDog