Use WIFI Download to transfer files from your BlackBerry to your computer by using WIFI! It was never easier to get that image or document from your BlackBerry to your computer. After you start the application you can access your BlackBerry files by using a web browser.
How to use it:
1. Make sure you are connected to a WIFI network
2. Click the Web URL button of the application and remember the URL
3. Press the Start WIFI Download Server button
4. Go to your computer or other device that is connected to the same WIFI network
5. Start the browser and fill in the URL from step 2 and press enter
6. Now you can see all the files on your device from the browser!
Features:
Set the port of the web server, default is port 80
Allow access to your BlackBerry through wifi with the use of a browser
Enable the web server to auto start when your device starts
Keep the backlight on when the web server is running
ADVANCED: allow other connections besides wifi. This allows you to let people access the web server through, for example, your providers internet connection. Also, most providers dont allow server connections so it wont work on most devices. Of course wifi will always work!
When you buy the application you get a registration code from App World which you can use to register the application with. In case you lost or forgot the code you can get it at icecoldapps.com. Register the application by starting it, press the BlackBerry menu button and click the register menu item.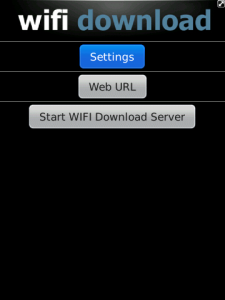 App Name:WIFI Download
App Version:1.7.0
App Size:283 KB
Cost:US$2.99 USD
Filed Under: Utilities Apps Tags: ADVANCED, App World, URL, WIFI Previous Post: TimelySMS – SMS Scheduler for BlackBerry
Next Post: Phido Wireless IP Cam