"Imp: Before you proceed, please make sure that you have a BlackBerry plan which allows browsing or a basic BlackBerry plan with a WiFi/3G connection."
Times Music presents Bhoomi The Band-Lokegeeti Local. Bhoomi is a Bengali language Indian band, that was formed with the aim of reviving traditional folk music. This app will take you through their journey of music and the richness of the Bengali folk music. So find out more about the band and jive to their soulful beats.
About the band:
Surojit Chatterjee and Soumitro Rays meeting and their experimentation with folk resulted in the formation of the band with the name Bhoomi – meaning Earth – which gelled in, in spirit and essence with their earthly and folksy style – along with the other members. Their current line-up includes 5 band members -
Surojit Chatterjee
Soumitra Ray
Hemanto Goswami
Abhijit Ghosh
Robin Lai
About their music: The band defines its music as urban folk.The band uses a fusion of modern, urban lyrics with Bangla rural folk tunes like Baul which was a very early style of music by wandering minstrels in rural Bengal or Bhatiyali traditionally sung by the boatmen on the Ganges and also the Padma in Bangladesh. They have also re-done remix would be an injustice to the bands style old folk songs which were unknown to the modern day urban Bengali and revived such gems with an infusion of fresh music and a lively spririt and pep to the old songs.
The bands efforts have been to expand their brand of urban music beyond the college campus and youth circuit to the older listener. One of their main inspirations behind their music is everyday city life, which they experience and which is experienced by so many people everywhere.
Their popularity is rooted in a unique sound that combines a variety of traditional folk tunes with an array of western rhythms with western instrumentations and mixed harmoniously with Bengals folk instruments like the Khamak, Ektara, Khonjoni, etc.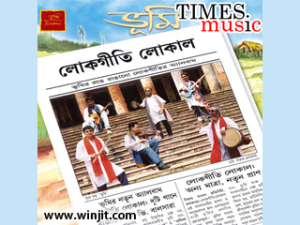 App Name:Bhoomi The Band – Lokegeeti Local
App Version:1.0.0
App Size:860 KB
Cost:US$0.99 USD
Filed Under: Ebooks Tags: Abhijit Ghosh, Hemanto Goswami, Soumitra Ray, Surojit Chatterjee Previous Post: 20000 Leagues under the Sea ebook
Next Post: Grammar and Vocabulary of the Lau Language Solomon Islands ebook