Quickly find correct words for use in your favorite word games; such as Scrabble. Features 3 dictionarys, SOWPODS, TWL, or general English terms.
Features:
Simple to use!
Includes over 100, 000 definitions!
Search from all, or 2 – 15 letter words.
3 dictionary types.
Fast!
Double tap a word to see its definition.
Over 250, 000 English words!
**Please note; this is for casual reference only and cannot be considered a de facto reference for playing Scrabble games.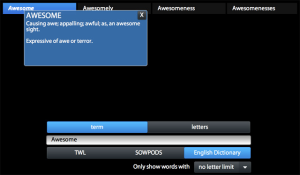 App Name:CheckWord
App Version:2.0.0
App Size:10704 KB
Cost:US$1.99 USD
Filed Under: Ebooks Tags: Fast Double, Features Simple, SOWPODS, TWL Previous Post: US Presidential Inaugural Addresses from Washington to Obama ebook
Next Post: Audio Collins Mini Gem Japanese-Finnish-Japanese Dictionary