This collection of 42 hadith by Imam an-Nawawi is generally regarded as the most popular anthology and the best introduction to the study of the Prophets sayings which, contain the essential teachings of Islam.
guidelines:
to navigate between hadith
1. use button p to display next hadith.
2. use button o to display previous hadith
3. you can navigate using menu next and previous.
4. if your smartphone support touch screen, you can navigate between hadiths using swipe gesture.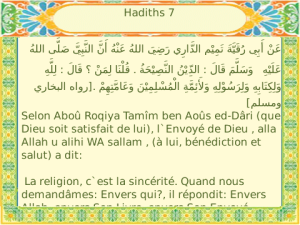 App Name:Hadith Arbain – France
App Version:1.0.0
App Size:242 KB
Cost:US$0.99 USD
Filed Under: Ebooks Previous Post: Count Frontenac and New France under Louis XIV
Next Post: Missionary Work Among the Ojebway Indians ebook