Quizmine and RealSimpleEDU.com brings you "On-The-Go" Yoga for Sun Salutation learning and reference App!
App offers 14 interactive tutorials and 1 quiz with search feature.
Includes following topics:
Introduction,
Prayer Pose,
Raised Arm Pose,
Hand To Feet Pose,
Equestrian Pose,
Mountain Pose,
Salute With 8 Points,
Cobra Pose,
Reverse Mountain Pose,
Reverse Equestrian Pose,
Reverse Hand To Feet Pose,
Reverse Raised Arm Pose,
Reverse Prayer Pose,
Conclusion.
Continually updated and improved quality of content based on YOUR feedback.
Any issues are resolved within 2 business days.
Our Vision: Provide on-the-go references that enable our customers to refer, learn and remember; easy to learn, more engaging and most complete.
Our Mission: A RealSimpleEDU app in every pocket.
Please write to us. We would love to improve this app.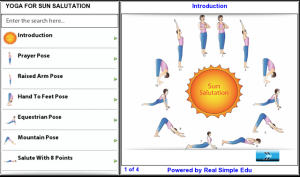 App Name:Yoga Sun Salutation for BlackBerry PlayBook
App Version:1.0.0
App Size:5236 KB
Cost:US$1.99 USD
Filed Under: Ebooks Tags: App App Previous Post: The Village WatchTower
Next Post: A Touch So Wicked ebook