BCD Black and White theme is a great theme for everyones device.
Functional features:
Three different black and white Images as wallpaper and incoming call BackGrounds.
Different Font Style to BCD Black and White Theme.
OS version 6.0 Icons.
it Supports all devices and all Os versions except 8100 and 9500 devices.
Battery Signals and network Signals are Changed.
Fast and very easy to use.
Transform the default theme and bring your device to life.
Note: If you have questions or need tech support please contact us before posting a review we cant see who you are and therefore cannot respond in reviews.
Follow us On twitter:https://twitter.com/!/BCDCS
Like us on Facebook:https://www.facebook.com/pages/Berry-Cool-Designs/174850235893137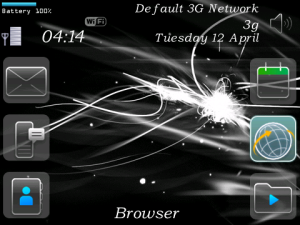 App Name:BCD Black and White Theme
App Version:1.0.0
App Size:1127 KB
Cost:US$0.99 USD
Filed Under: Themes Tags: Battery Signals, Berry Cool Designs, Different Font Style, OS Previous Post: Happy Christmas to All
Next Post: Joyful Love Theme