Chic. Sophisticated. Totally You!
Activate bGlamorous today and turn your BlackBerry smartphone into an instant fashion statement!
The fluid, crisp BlackBerry 6 OS blends beautifully in a satin, lavender setting.
Expansive center frame in Homescreen accentuates your personal background photo.
Every screen is crafted with precise colors and images to deliver a visually-pleasing experience.
Let bGlamorous projects sophistication and class from your most trusted companion!
For theme demo, please go to http://www.youtube.com/PinnacleBB
To activate theme, go to Options Screen Display, highlight bGlamorous and select Activate from Menu.
Supported BlackBerry, and OS versions
9800BlackBerry Torch 6.0
9780, 9700, 9650 BlackBerry Bold 6.0
For other elegant themes from Pinnacle BB, please browse to our vendor page in your browser:
http://appworld.blackberry.com/webstore/vendor/2312
Any inquiries or support, please contact pinnaclebb@gmail.com.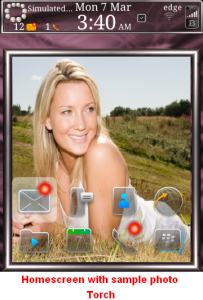 App Name:bGlamorous Classic – OS6 for BlackBerry Torch and Bold
App Version:1.0.0
App Size:1992 KB
Cost:US$2.99 USD
Filed Under: Themes Tags: App Name, Options Screen Display, OS Previous Post: X THEME India special THEME
Next Post: Digital Black Theme