*NOTE: THIS theme IS NOT COMPATIBLE WITH OS 6.*
***Premium, Clean, Professional BlackBerry Hidden Today Theme***
Carbon Alloy Hidden Today is a premium theme for the person that wants their BlackBerry to have a clean, professional look and feel. Designed to look like it came installed from the factory, Carbon Alloy Hidden Today gives you instant access to 8 customizable icons as well as your messages, calendar, etc. If you want one of the cleanest Hidden Today themes available, look no further, get your copy today!
**Features**
Hidden Today Style
Clean and Professional
Custom Backgrounds, Indicators and Graphics
Custom Menu and Dialog Background
Hidden Today for Messages, Calendar, etc.
Side Docks with 3 Customizable Icons
Bottom Dock with 5 Customizable Icons
*Note: Screens may vary slightly based on phone model.
**ATTENTION: FONT TOO SMALL?** – After purchasing theme, contact support for ability to download version with larger font size.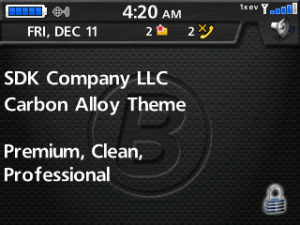 App Name:Carbon Alloy HIDDEN TODAY Theme
App Version:1.5.0
App Size:871 KB
Cost:US$2.99 USD
Filed Under: Themes Tags: Hidden Today, Side Docks Previous Post: Chihuahua Theme
Next Post: Brazil World Soccer Football Fusbol Animated Theme