This theme will truly bring your phone to life! Every 5 seconds, your background will change from solid black to an explosion of stars in the style of a set of fireworks.
SPECIAL OFFER: For a limited period all our animated themes will be charged at the same price as our static themes, youll have to be quick though!
Check out our screenshots, obviously they dont show any animation but it gives you an idea as to how it will look on your BlackBerry.
In addition to the amazing animation, you also get a set of custom designed red icons made by our team at My BlackBerry Themes!
Love fireworks? Love stars? Love red? Youll love this theme!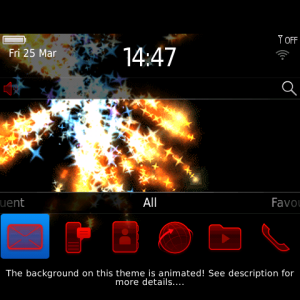 App Name:Firework Stars Theme with Red Icons – Animated Exploding Star Fireworks
App Version:1.0.0
App Size:1805 KB
Cost:US$1.99 USD
Filed Under: Themes Previous Post: Unleashed Polterguist
Next Post: Delicious Green