A theme which will take you to pleasant environment.
9800 OS 6
9780 OS 6
9700
9600
9500
9000
8900
8500
8350
**********
CUSTOM THEME ELEMENTS :
Wonderful and Advanced UI
Advanced HOME SCREEN
Clean Icons
Hidden Today
Customized Five Screens
Customized Dialog Box
Customized Buttons & Tabs
Customized Battery Meter
Customized Signal Meter
Customized Volume Meter
New message icons
Incomming Call Screen
Active Call Screen
Lock Screen
Friendly User Interface
Colours & Fonts
To apply theme after successful download and installation:
Navigate to Options – Theme – select newly downloaded theme to apply
We hope you enjoy our Flowered Theme!
Please rate our products and tell us what you think, and help us bring you the best products we possibly can!
Guarantee satisfaction: PIXEL DREEMS welcome your feedback comment, so we can keep leading the tide in art designing of theme. If you find a bug, kindly write email to us. Be so kind that dont leave a nasty comment.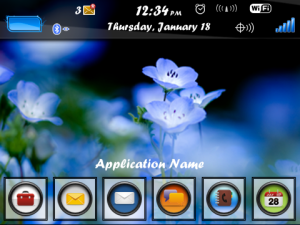 App Name:Flowered Theme
App Version:1.0.0
App Size:2228 KB
Cost:US$3.99 USD
Filed Under: Themes Tags: Flowered Theme Please, Options Theme Previous Post: Themes in Motion: Pool
Next Post: Sagittarius Animated Zodiac Signs Theme – Star Sign Horoscope Theme with animated stars and Star Icons