Inspired by futuristic technology and geometric shapes, Hexa-gon is a refined BlackBerry theme which will
transform your Smartphone into an ultramodern gadget made of hexagons.
Features
-A futuristic home screen that lets you keep up to 7 applications at hand.
-Support for both Portrait and Landscape views.
-Custom color scheme.
Do you have a suggestion to help us improve our theme? Do you want Hexa-gone to support your device?
Contact us on our website http://www.bytestackers.com/ and we will be sure to meet your needs!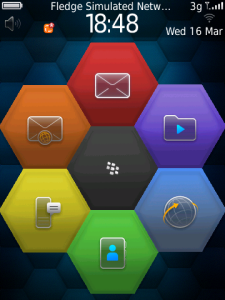 App Name:HeXa-Gone Theme
App Version:1.2.1
App Size:1128 KB
Cost:US$1.99 USD
Filed Under: Themes Previous Post: SUCCULENT PREY ebook
Next Post: Minty Business