Details:
* Funny Wallpapers with the egg cartoon designs.
* Clear and colorful highlights for select the icons
* Icons with this specials and ingenious designs.
* Full with great colors your BlackBerry
* Make your BlackBerry rings with the characteristics sounds of this cartoons OS 5+
Close one eye and close the other and ooops nothing to see Make funny your BlackBerry and download this attractive theme, which could help you to make the center of the party.
PLEASE TAKE A FEW MINUTES TO READ INSTRUCTIONS BELOW.
***OS 4.6 and above, only!***
Please check you have the required Operating System. Support for OS 4.6 + only application screen – select option- about.
Due to possible connection errors with mobile providers we recommend using Wi-Fi when available.
INSTALL
1. Options spanner looking Icon from the Applications screen.
2. From the Options menu, scroll down to Theme and select it.
3. Highlight a different theme, and click it.
4. Return to the Options menu.
5. Exit out of it. Now youre using a different theme.
Please contact Support to file a technical Issue.
Follow us in www.in2go.com.mx and check our innovations and promotions.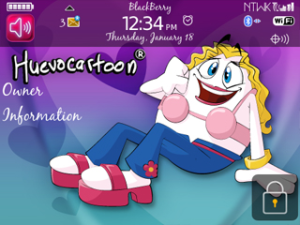 App Name:Huevas Fresas
App Version:1.0.0
App Size:1210 KB
Cost:US$3.99 USD
Filed Under: Themes Tags: INSTALL, Operating System, OS, Wi Fi Previous Post: Poker chips
Next Post: iBlack – Sweet And Soft