A fresh, original and unique theme with almost anything that can be reached straight from your homescreen this theme is ideal for every BlackBerry lover out there that is looking for something new and different.
With…
- Over 20 homescreen icons.
Including special icons on the bottom of the homesreen like google maps, 6.0 RSS feeds, Viigo, Youtube, Twitter Ubertwitter, Myspace and Facebook.
- Custom homescreen meters.
- Custom icons.
- Fully skinned.
- Weather slot, or any other user defined icon of choice.
- For 6.0 OS devices.
I = Battery meter also hotkey for Quicklunch.
Hearts = Signal meter also hotkey to network settings.
U = Takes u to the app screen.
Kisses = WIFI signal.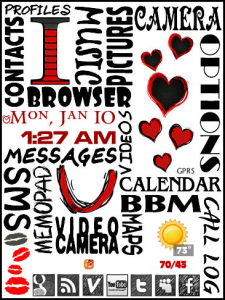 App Name:IheartU
App Version:1.0.1.3
App Size:1807 KB
Cost:US$2.99 USD
Filed Under: Themes Tags: Hearts Signal, Twitter Ubertwitter Previous Post: BGT Visio
Next Post: Vegas Style