A theme based on Hunting Cheetah ! Every aspect has been "Cheetahed" out, or is in cheetah colors! Includes new, fun fonts as well! All backgrounds and icon placement are user-changeable.
You need Data plan to get this theme! Check screenshots before you buy!!!
Hunting Cheetah Backgrounds
New Banners
New Indicators for Unread Messages
Everything is decked out in Cheetah Print or Cheetah colors!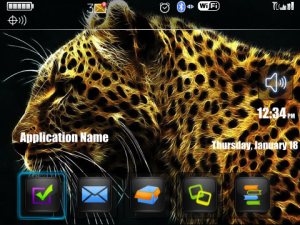 App Name:King Chee
App Version:1.0.0
App Size:927 KB
Cost:US$2.99 USD
Filed Under: Themes Tags: Hunting Cheetah Every Previous Post: Digital Planets Theme
Next Post: Highway Bliss for BlackBerry Bold 9700 and Tour Theme