Feature:
1. Light Heart theme Support for OS5 and OS6 with specified model.
2. BlackBerry Heart button.
Important:
Step 1 Restart Device
Step 2 Remove Battery – Battery removal may be needed to finish installation
Step 3 Change Theme
Install:
1. To do so, select Options spanner looking Icon from the Applications Screen.
2. From the Options menu, scroll down to Theme and select it.
3. Highlight a different theme, and click it.
4. Return to the Options menu.
5. Exit out of it. Now youre using a different theme.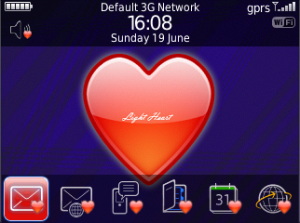 App Name:Light Heart Theme
App Version:1.0.0
App Size:526 KB
Cost:US$0.99 USD
Filed Under: Themes Tags: Change Theme Install, Important Step, Remove Battery Battery Previous Post: I Heart Alabama Crimson Tide – Animated Theme
Next Post: Metal Combo