For all the users who are waiting for an awesome theme, here it is! The Lively Colors Theme from the creators of Colorful Life Theme, Awesome Design Theme & many more!
Check this out! We are sure that you will not be disappointed!
As the name suggests, it is very colorful & very lively.
Life is very colorful. It has so many different colors & shades to offer.
This one is all about the life & the colors in it.
Customized colorful icon set.
Customized battery & signal meters.
Features:
This theme is very colorful & lively.
Customized icons, font, battery & signal meters.
High quality screen-wise backgrounds & attractive icons.
Follow us on Twitter: http://twitter.com/IntellectD
Please let us know in twitter or send us a mail if you are facing any issues with our products. We would love to help you out.
If you like our theme, please post a review in BlackBerry App World.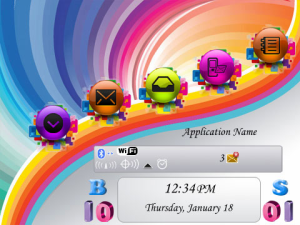 App Name:Lively Colors Theme
App Version:1.0.0
App Size:1100 KB
Cost:US$3.99 USD
Filed Under: Themes Tags: Colorful Life Theme, Lively Colors Theme Previous Post: OS 6 Style Green
Next Post: Cocktails and Drinks Theme