Imagine that you have a digital camera and take a shot with it. You can share it directly to your twitter and Facebook account with just one click.
It is one of ShootnShare BlackBerry theme series. We put a mini App developed by @ibnux, to enable you to capture your BlackBerry screen and share it directly to your twitter or/and facebook to your friends and family.
Features:
- 10 user application order icons with fade-in/fade-out effect
- changeable wallpaper
- ShootnShare mini app make sure to allow the permissions upon installing
How to:
Change wallpaper: choose any picture you like from your memory card or a shot from your BlackBerry camera and "set as wallpaper"
ShootnShare:
- Just run the ShootnShare app, either via dedicated icon on the homescreen or simply press SPACE you have to disable the dial from screen feature or universal search
- Replace the My BlackBerry Screen text with your own
- Click on twitter and/or facebook button to authorize the app for the first time
- You can add some visual effects such as grayscale, negative, sephia and retro
- Click Save n Share button
Available for device using OS 4.6 and later
All pictures shown are for illustration only.
visit www.patriaguides.com and http://shootnshare.me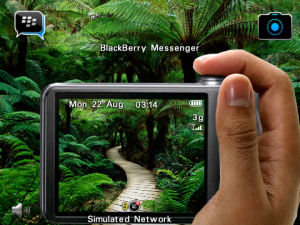 App Name:My Camera Series
App Version:1.0.0
App Size:956 KB
Cost:US$2.99 USD
Filed Under: Themes Tags: Click Save, OS, SPACE Previous Post: Mercy in Ramadan
Next Post: Pink Diamond Dollar Sign