Professional For BlackBerry is a theme efficient, gorgeous, clean, fast and organized.
Professional For BlackBerry is the latest addition to our dashboard theme family. A new generation of themes that allow you to have faster access to your most important apps by providing a better interface dressed to impress.
Feature packed, A prominent clock makes it very easy to see the time even at the quickest glance. 9 Fixed icons and Today previews in a beautiful skin make Professional Berry one of the most productive themes out there. deep colours and gorgeous icons, specially made for the theme!
Enjoy it! Let it shine trough Your BlackBerry!
Beautifully animated transitions
Clean, simple & professional
Today preview
9 Fixed icons
Clean interface
Fast and snappy
Practical & pixel perfect design
Upgrade your phone with Professional from IOneStudios.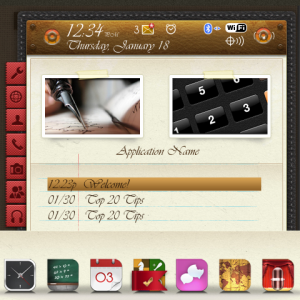 App Name:Professional For BlackBerry
App Version:1.0.0
App Size:3282 KB
Cost:US$3.99 USD
Filed Under: Themes Tags: Professional Berry Previous Post: X THEME Sweden special THEME
Next Post: 1 MoKoJo