Pulsar by Pizero Design is the best seller theme of our collection: a true masterpiece that, we are sure, you will keep on your BlackBerry forever!
Pulsar is a Premium BlackBerry Theme; it is the result of months of research to deliver the most stunning interface you can get for your phone.
Pulsar will completely refresh the look of your BlackBerry, including a top quality space wallpaper, with bright colours on a black background. The theme also includes a full set of glass icons, as well as transparent bars, shiny buttons and top quality graphics for a great user experience!
Try it now and you wont regret. Pulsar: Hyperspace in your hands!
Pizero Design, one of the most appreciated companies, specialized in UI and themes development, now for the first time on BlackBerry App World! Until today Pizero Design delivered over 10 million themes on other platfoms, and we are now ready to bring our best designs on your BlackBerry phone!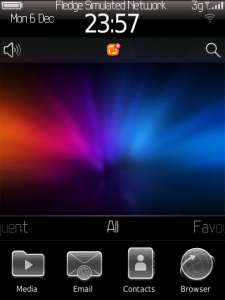 App Name:Pulsar
App Version:2.6.0
App Size:283 KB
Cost:US$0.99 USD
Filed Under: Themes Tags: Pizero Design, Pulsar Hyperspace, UI Previous Post: Red Lights Glow Theme with Wonderful Black Icons
Next Post: Black Steel EX Today Style