* Retro is a culturally outdated or aged style, trend, mode, or fashion, from the overall postmodern past, that has since that time become functionally or superficially the norm once again.
* Retro theme for your BlackBerry can make you go back to the early days of black n white.
* With hidden dock & customized font, this theme can definitely please you!
* This theme can make you go back to the past. :
* Customized battery & signal meters.
* No lags… Works flawless. Tested in the physical devices.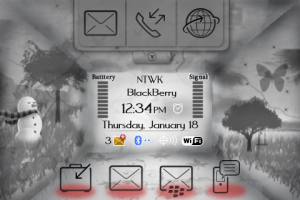 App Name:Retro Theme
App Version:1.1.0
App Size:607 KB
Cost:US$3.99 USD
Filed Under: Themes Previous Post: Pink Shoes Zen
Next Post: DOGA Sam Theme