Reflection of the ULTRA stunning, peaceful and beautiful swan. A theme delights your mind and eyes.
Enhanced with SVG – Media – Shortcuts
Hidden SVG 4 fixed Shortcuts for Media…Alt+1/2/3…Shortcuts.
Useful Shortcuts:
1. Hidden SVG: press space key to pop up SVG menu and press back to hide.
2. 4 fixed Shortcuts: Media shortcut fixed on homescreen, this is a very useful function, and few provider can do this :; Message, Options, Profile is another 3 shortcuts.
3. Alt +1, Alt+2/3… to access 1-9 icons in the application menu
Features:
1. Comfortable and cool background
2. Customized vivid icon set and layout
3. Free More MMMOOO link inside the theme which helps you leads to Premium & Free ONLY MMMOOO content in shortcut
4. Deliver with 5 premium MMMOOO apps inside with web link. If you dont like them, you can hide them.
To activate the theme after successfully downloading:
Navigate to Options – Theme – Select the desired Theme and activate.
To uninstall a theme plz delete it in the application list.
Guarantee satisfaction:
MMMOOO welcome your feedback comment, so we can keep leading the tide in art designing of theme. If you find a bug, kindly write email to us, we can provide revision asap, and a bonus free theme as well. Be so kind that dont leave a malicious comment.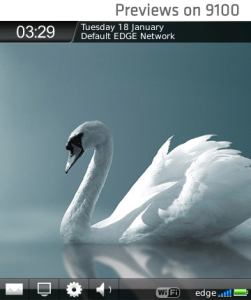 App Name:Swan Lake – Enhanced with SVG – Media – Shortcuts
App Version:1.0.0
App Size:1102 KB
Cost:US$4.99 USD
Filed Under: Themes Tags: MMMOOO, Shortcuts Media, ULTRA, Useful Shortcuts Previous Post: Inside Nature with Vivid Pink Outline Icons Theme
Next Post: Violet Light Flare Theme with Amazing Orange Icons