**NOTE: Currently this theme has been tested on the 9600 and 9700 series devices ONLY. Other devices HAVE NOT BEEN TESTED and may not work. You assume all responsibility for other devices. No refunds will be given for non supported phones.**
This L shaped theme provides 9 icons on the home screen with custom transitions not seen on standard BlackBerry themes. In addition, the theme features nature scenes for the home screen, applications screen and calling screens while providing simple navigation and small tweaks to the placement of icons in the banners. We have maintained simplicity by utilizing the standard messaging, icons and symbols. This customized theme will make your BlackBerry much more fun to use.
This theme has only been tested with v4.5.0 – v5.x software. Please make sure you have the correct version of software before downloading.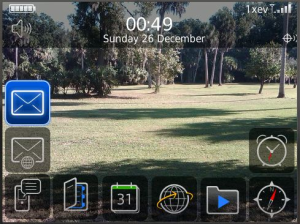 App Name:Transitions L9_1 Theme
App Version:2.1.0
App Size:792 KB
Cost:US$1.99 USD
Filed Under: Themes Previous Post: Fighter Jet
Next Post: AKIDs – Play With Giffy