OS 6.0 support available.
Vampires are believed to rise from the grave at night to suck the blood of sleeping people.
Customized grey icon set
Glass of blood represents the battery meter. When the battery is low, then the blood in the glass decreases.
Signal meter as customized rolling down blood drops.
Features:
Customized icons, font, battery & signal meters.
High quality screenwise backgrounds.
Blood as the focus of the icon.
Follow us on Twitter at http://twitter.com/!/IntellectD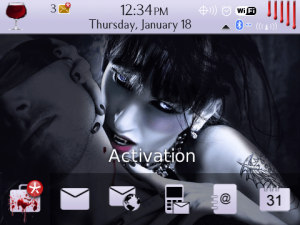 App Name:Venomous Vampires theme
App Version:1.1.0
App Size:997 KB
Cost:US$2.99 USD
Filed Under: Themes Tags: Features Customized Previous Post: Orange and White Dreamscape Lights Theme with Stunning Yellow Icons
Next Post: Tiger Blue Glitter