——— ATTENTION ———-
FULL OS6.0 SUPPORT. Include 9800/9780/9700/
9670/9650/9330/9300/9105/9100
——— IMPORTANT ———
Very Cute Flowers theme will be found under Options icon – Themes
NOT will be available on the Download Folder
Reboot your device after download Battery pull
—————————–
This theme is from ale7714 Designs you can search for more
of our themes on the App World by searching for ale7714 or
you can go to ale7714designs.com
—————————–
Very Cute Flowers is a fresh, colorful, playful and girly theme.
Its fully customized and the high quality wallpapers are
specially designed for theme to make sure easy reading and
using. Very Cute Flowers has bright orange icons that gives a
very fun and feminine touch. Also the menu and dialog
pop-up has a semitransparent and colorful look.
Very Cute Flowers is the perfect theme to give a fun and cute
look to your BlackBerry. *Wallpaper Friendly Theme*
Features:
* Bright orange BlackBerry style icons.
* Colorful wallpapers full of flowers.
* Wallpapers of high quality and edited for improve readability.
* The Home screen icons order is customizable.
* Transitions Only for OS4.7.1 and above.
* All details of the theme have been carefully customized.
* Wallpaper friendly.
——— ATTENTION ———
If you need help or have problems with the theme, PLEASE
contact us instead of giving a bad review because WE CAN
HELP YOU QUICKLY and youll enjoy your theme.
Email: ale7714designs@gmail.com
———- MORE ABOUT US ————
http://ale7714designs.com
http://twitter.com/ale7714Designs
http://www.facebook.com/ale7714Designs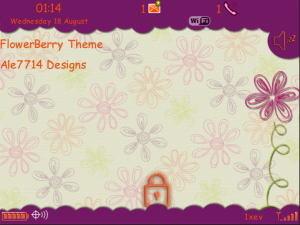 App Name:Very Cute Flowers Theme
App Version:4.2.0
App Size:1673 KB
Cost:US$0.99 USD
Filed Under: Themes Tags: App World, Download Folder Reboot, PLEASE Previous Post: Pink Butterfly
Next Post: Reaper – Animated Halloween Theme