Go on a virtual Easter Egg Hunt!
Solve riddles to find each egg. As you find more eggs, the other rooms become unlocked. Tap on the door handles to go between the rooms and outside.
Easter Egg Hunt comes with a bonus Game! Test your vocabulary and spelling while having fun! How many words can you make out of the letters of Bunny Rabbit? Take turns competing with friends by setting up multiple player profiles
&10004; Hours of entertainment!
&10004; Fun illustrations!
With two levels of game play, this game is fun for all ages. The beginners level is for younger children and will entertain while teaching. The advanced level is for older children and adults. Parents you can have fun too!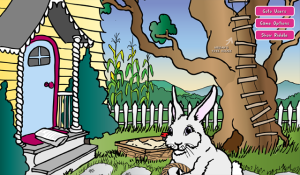 App Name:Easter Egg Hunt
App Version:1.1.0
App Size:7321 KB
Cost:US$0.99 USD
Filed Under: Board Game Tags: Bunny Rabbit, Easter Egg Hunt Previous Post: Tic-Tac-Dough
Next Post: Honeycomb