The Games, Cards & Toys Question Pack contains 300 new questions about games, toys, card games, casino games, chess, other common games, childrens toys and other entertainment classics all written in 2010!
**IMPORTANT** You need the MobileQs Trivia Game with Question Pack 1 to use this expansion pack. This expansion pack will NOT work without the trivia game: http://appworld.blackberry.com/webstore/content/8549
Visit MobileQs . com for expansion packs, more information or support. Click on FanWide LLC above to see the other MobileQs games. MobileQs was the 1 BlackBerry trivia game in 2010.
Expansion Pack Highlights:
- 300 questions written in 2010
- Installs in seconds with 1-click
- Dozens of difficultly levels
- 3 different types of Hints: eliminate answers, poll the people & replace a question
- High Scores Top 10
- Online instructions & help
- All questions are in English and written by the MobileQs team
- Important: You need the MobileQs trivia game to play this expansion pack
Check out our dozens of expansion packs with 16,000+ questions:
- MobileQs Trivia Game with Question Pack 1100 | http://appworld.blackberry.com/webstore/content/8549
- Question Pack 2 Trivia | 1100 | http://appworld.blackberry.com/webstore/content/8912
Arts & Leisure Themes:
- Books & Literature | 300 | http://appworld.blackberry.com/webstore/content/14148
- Celebrities & Hollywood | 300 | http://appworld.blackberry.com/webstore/content/12968
- Comics & Superheroes | 300 | http://appworld.blackberry.com/webstore/content/14147
- Fine Arts | 300 | http://appworld.blackberry.com/webstore/content/19696
- Games, Cards & Toys | 300 | http://appworld.blackberry.com/webstore/content/19697
- Movies | 600 | http://appworld.blackberry.com/webstore/content/12553
- Music | 600 | http://appworld.blackberry.com/webstore/content/12781
- Performing Arts | 300 | http://appworld.blackberry.com/webstore/content/19700
- TV | 600 | http://appworld.blackberry.com/webstore/content/12855
- Video Games | 600 | http://appworld.blackberry.com/webstore/content/14526
Education, Science & Work Themes:
- Animals | 300 | http://appworld.blackberry.com/webstore/content/19692
- Business & Finance | 300 | http://appworld.blackberry.com/webstore/content/14522
- Internet & Technology | 600 | http://appworld.blackberry.com/webstore/content/14524
- Nature | 300 | http://appworld.blackberry.com/webstore/content/19699
- Science | 300 | http://appworld.blackberry.com/webstore/content/19701
- Stocks | 1300 | http://appworld.blackberry.com/webstore/content/8913
Sports Themes:
- American Sports | 1200 | http://appworld.blackberry.com/webstore/content/10800
- Baseball | 300 | http://appworld.blackberry.com/webstore/content/11767
- Basketball | 300 | http://appworld.blackberry.com/webstore/content/11770
- Combat Sports | 300 | http://appworld.blackberry.com/webstore/content/19693
- Cricket | 300 | http://appworld.blackberry.com/webstore/content/19694
- Football American | 300 | http://appworld.blackberry.com/webstore/content/11769
- Football Soccer | 600 | http://appworld.blackberry.com/webstore/content/11763
- Golf | 300 | http://appworld.blackberry.com/webstore/content/11989
- Hockey | 300 | http://appworld.blackberry.com/webstore/content/11772
- Olympic | 300 | http://appworld.blackberry.com/webstore/content/12779
- Racing | 300 | http://appworld.blackberry.com/webstore/content/12720
- Rugby | 300 | http://appworld.blackberry.com/webstore/content/12782
- Tennis | 300 | http://appworld.blackberry.com/webstore/content/14525
World Themes:
- Canada | 600 | http://appworld.blackberry.com/webstore/content/14169
- Europe | 600 | http://appworld.blackberry.com/webstore/content/14170
- Geography | 300 | http://appworld.blackberry.com/webstore/content/19698
- UK | 600 | http://appworld.blackberry.com/webstore/content/14172
- USA | 600 | http://appworld.blackberry.com/webstore/content/14173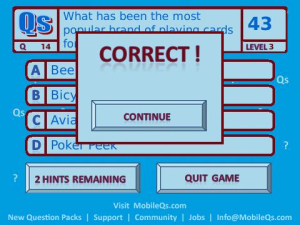 App Name:Games Cards and Toys Trivia – MobileQs Expansion Pack – 300 New Questions
App Version:1.0.0
App Size:52 KB
Cost:US$0.99 USD
Filed Under: Cards Game Tags: Celebrities Hollywood, Expansion Pack Highlights, High Scores Top, Question Pack Previous Post: Girls Night Out Solitaire
Next Post: Mem Card Game