*Solitaire Deluxe is now live on Facebook! Purchase today and get 11,750 Rewards Credits FREE new players only, a $9.99 value. Use your credits on Facebook and/or your mobile version.
Been burned by too many bad apps? Rest easy with Solitaire Deluxe 16-Pack, the time-tested best seller with over 4 million downloads. From Mobile Deluxe, the trusted authority in casual games since 2003.
The best selling solitaire just got better! Classic favorites combine with new games and feature in-depth tutorials for easy pick-up and play. Do you like winning? Enjoy the GUARANTEED winnable hands in the Daily Deals section. Play solo, compete with your friends, post scores to the real-time leaderboard and use Game points for FREE downloadable content in the Rewards Store.
DELUXE FEATURES
- 16 GAMES: Klondike, Spider, FreeCell, Pyramid, Tri-Peaks, Chinese Solitaire, Scorpion, Yukon, Golf, Canfield, Kings Corner, Vanishing Cross, Spiderette, Poker, Russian Solitaire and The Harp
- Winnable Daily Deals: 3 guaranteed winnable hands every day
- Rewards Store: Updated twice a month with 2 new card and 2 background designs
- Animated Tutorials: For all 16 Games
- Scoring System
- Worldwide Leaderboards
- Stat Tracker
- Unlimited Undo
- FreeCell Game Numbers: Play same game numbers from your standard PC game
CUSTOMIZATION OPTIONS
- Customize your cards
- Customize your backgrounds
- Customize your layout: left handed or right handed
- Customize your deal options particular games
- Easy Play Mode
- In-Game Music on/off
- Play your own music while playing
- Auto Win
LATEST CARD and BACKGROUND UPDATES
- Impressionist Art
- Tropical Paradise
- Kittens
Follow Mobile Deluxe:
– On Twitter: twitter.com/mobiledeluxe
– On Facebook: facebook.com/mobiledeluxe
– Web Page: MobileDeluxe.com
Please check our other Mobile Deluxe Games:
Sudoku Deluxe 2
Addiction
Chocolatier
Bliss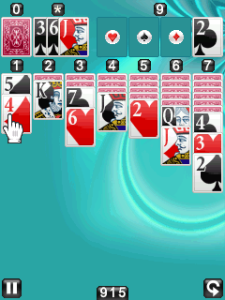 App Name:Solitaire Deluxe 16-Pack
App Version:2.3.0
App Size:1462 KB
Cost:US$2.99 USD
Filed Under: Cards Game Tags: Chinese Solitaire, Kings Corner, Solitaire Deluxe, Tri Peaks Previous Post: Solitaire
Next Post: ABC Memory